Dear Strand Fan,
Tonight RUSTY SHIPP will be at the Strand. True to their name, Rusty Shipp has created a sound known as Nautical Rock 'n' Roll. Characterized by its dark, underwater sound, haunting vocals, and unconventional, heavy riffs, the music is a perfect fusion of grunge and surf rock, though it is most memorable for the Beatlesque chord progressions and vocal melodies at the core of every song.
The band strives to bring our audience into a multi-dimensional, artistic experience that integrates music, narrative story-telling, illustration, and video to create a voyage into their underwater world of sea monsters and conspiracy theories, all to the tune of the catchiest melodies you've heard since bands like Nirvana and Foo Fighters.
Named after singer-songwriter Russ T. Shipp, the band was started in Nashville, TN in 2014, and now also includes AJ Newton (Originally from Shelby County, Indiana and 2001 Waldron High School Graduate), Doug Webster (Also an Indiana native originally from the Indianapolis area) and Dave Gajda.
Russ T. has his own signature sound, weaving his raspy voice in and out of falsetto and vibrato; at times sounding like a "higher-pitched Kurt Cobain," as one music critic put it, and other times like a ghost. The music revolves around progressive grunge riffs in the style of Muse and Royal Blood, intertwined with catchy melodies and provocative, philosophical lyrics all aimed to empower the listener. The concert starts at 8pm and tickets are available online or at the door. We hope to see you there!
On Saturday night we welcome TRANSYLVANIA LIP TREATMENT as the live shadowcast for ROCKY HORROR PICTURE SHOW.
The Rocky Horror Picture Show movie debuted on theater screens in 1975 and by 1976 it had earned its midnight movie status. Part of its midnight movie status was the growing trend of audience participation during the movie. That eventually became known as shadowcast in which live actors act out and lip sync the movie during the movie screening. This would include audience participation such as, call back lines to the screen and certain props being used during the movie as well as other audience participation.
Transylvanian Lip Treatment (also known as TLT) has carried on this live shadowcast tradition for over ten years and is one of the most active casts in the midwest. Their show is an experience of uncensored fun and debauchery that pulls the audience in to be a part of the show. The Rocky Horror Picture Show is rated R and so is Transylvanian Lip Treatment's performance. Come to their show and experience what the Rocky Horror Picture Show is all about.
*****
This week we made a press release about a problem we have talking about recently in these newsletters:
The Strand Theatre reported a theft to the Shelbyville Police Department on Friday June 10,2022. The theater has struggled with failures of their air conditioning units. This equipment was installed in 2015 and is in excellent condition.
The theater personnel spent several weeks eliminating every cause for the failure. Diagnosis was unsuccessful and Scott Cook HVAC was called to investigate. He informed the theater's staff the refrigerant from all seven units was gone. There was evidence of equipment used to remove the gas.
Earlier this spring the volunteers discovered that someone tried to pry open the access cover between the room and the attic. They were unsuccessful in gaining entry to the Strand, but did damage to the latch mechanism.
Mr. Cook recharged all units and leak tested each. There were no leaks present, and all units became operational with the addition of the refrigerant 410A.
The cost to replace the refrigerant was just under $4000.
The Strand Theatre is Shelbyville is a not-for-profit, all volunteer performing arts center. They have presented over 1450 events since opening in 2008.
###
The theater is nice and cool, the auditorium is ready, we are looking forward to music and fun … all we need is you! Thank you for your support, see you at the Strand!
Below are pictures of our roof top AC units and America's Ultimate Queen Pageant participants: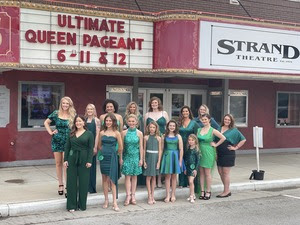 ******
LOVE and ROCK – WOMEN IN MUSIC August 20, 2022 @ 7:30pm